Where are all the hard pics?
Well, thanks to increasing censorship, an erect penis
can now be considered obscene! (Yes, I think
it's silly too).
If you want to see uncensored photos, you'll have to visit
a paysite like For The Girls

Or you can check out the explicit male centerfold pics
at the sealed section of this site, over here.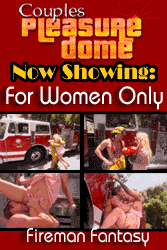 Now Showing at Couples Pleasure Dome
For Women Only - A series of vignettes featuring female fantasies - including one where a woman's boyfriend dresses up as a fireman to seduce her.

Caribbean Undercover - a hot and steamy spy story that Freddy and Eddy said was "one of our favourite titles"

Touched for the First Time - a beautiful artist dreams that her sculpture comes to life and acts out her wildest sexual desires.

Plus there's plenty more full-length DVD quality movies available, as well as access to hundreds of other sites!
Psst! Check out our sexy featured centerfold Mark over here! He's gorgeous!!